Free Advertising Online For My Business
Loes Knetsch ©
If you need more traffic…. read further…
Everybody hates popups, but surprisingly enough it works very well to get subscribers and sales. That's why I surfed the internet to find the BEST free advertising online for my business and the opportunity to place the popup where I want it to be. When you want to leave a page, there often will be displayed a popup.
LeadsLeap review
Rating: 6.0 out of 10
Category: Advertising online
Price :$ 0,00 (get a free account)
Website: http://www.leadsleap.com/
You can try it, I have added a popup. It is popping up on the bottom-
right. He will appear after a few seconds.
You can have a free pop-up like this too!
And although a lot of people dislike this, it converts very well.
You can use the banners they provide directly with your affiliate link attached.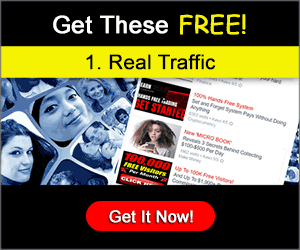 What else does Leadsleap offer?
How does "one signup a day" sounds?
Free gift: One signup a day e-book, download or view online.

Another free gift is the OTO list builder Read the explanation!
"This powerful FREE script lets you run a full-fledged online business like the gurus."

Rating: 6.0 out of 10
Pros
It's free and it's easy.
They have multiple opportunities to advertise your business.
Free popups to be made in a popup generator.
Affiliate opportunities also with a free account.
You might stumble over a great advertisement.
You can use the OTO list building program ( You need your own website for this)
Cons
For a free account, you need to click at least 10 ads a day to earn credits.
To get your 3 free ads displayed, you have to click a whole lot of rubbish ads.
The click earnings are very low $0,05 cents for 180 clicks.
Most ads are attending the make BIG money online business overnight or buy traffic. Which becomes a little boring.
It's a big YES for the popup opportunity, but a big NO for the advertising stuff.
Overall conclusion For Leadsleap
Free Advertising Online For My Business
Do you want to learn to make steady money online?
Click here for my No.1 recommendation.
© Loes Knetsch. All rights reserved.
(Visited 452 times, 1 visits today)